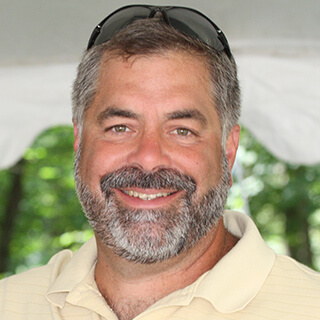 SCOTT HOKUNSON
Scott Hokunson, principal Blue Heron Landscape Design, started in the Horticultural Industry in 1981, working for a small wholesale nursery and landscape company in the Farmington Valley. In 1985 he struck out on his own as Hokunson Landscape & Design, designing, installing, and maintaining landscapes. In 1998 Scott's accepted an offer to work in the building industry, which eventually led to a position with a kitchen and bath design/build company. Scott maintained contact with the Horticultural world by attending yearly seminars, trade shows and occasionally designing and installing gardens, and in the summer of 2006, he returned to his roots to create Blue Heron Landscape Design.
Blue Heron Landscape Design designs and installs gardens and landscapes throughout Connecticut and provides maintenance oversight for our clients with a maintenance plan written specifically for each project. Our designs draw inspiration from existing architecture and from the sense of place, to create unique outdoor spaces. Our wealth of experience, along with our relationships with local craftsmen and artisans, helps us bring our designs to life.
From 2009 to 2012 Scott appeared as co-host and designer of The Ultimate Backyard Makeover, a once a year renovation TV show on WTIC Fox 61 in Hartford, Connecticut. He also co-wrote and produced that show. In December 2010 Scott was invited to be one of three members of the design community to lead a design charrette at Wesleyan University in Middletown, Connecticut. Following that event, he served as an advisor to a class on sustainable design for the fall semester of 2011, also at the university.
Scott is a garden writer, he writes the company blog and is a founding member of Garden Designers Roundtable. The Roundtable was an international design blog that focused on topics related to garden design and the differing experiences of other designers throughout the United States and Great Britain.
Scott's other writings have been featured in Fine Gardening Magazine, Connecticut Gardener, and The Designer (a quarterly publication of The Association of Professional Landscape Designers).
My career path has been varied and unique. I'm grateful for each opportunity along the way, they have provided me with a knowledge and experience across many disciplines. I draw on these every day for inspiration to better serve my clients and help bring their dreams into reality. I'm looking forward to working with you next!
All the best!
Scott
PROFESSIONAL AFFILIATIONS
We are proud to support horticulture and design through membership in the following national organizations. Our support helps to maintain and promote industry standards and provides us educational opportunities that help us better serve our clients.